When you go abroad you might have tons of ideas
what is different in that country compared to yours, but you also believe there
might be some universal events that are celebrated everywhere like New Years
Eve. I believed one of those was Christmas!! … NO ! I was born only a couple
hundreds of kilometres away from here in a country that is often expected to be
similar to the Netherlands.
Maybe because of the language or of their habits! One thing I have learned,
certainly not because of their festival activities!

After having heard of this typical Dutch event, it was clear that I
needed to celebrate this years Sinterclaas, which is for many dutch a more
important day than Christmas (December 25 and 26). Anyway, I wanted
to celebrate it!!!

So three Dutch friends of mine decided to create me a first Dutch
Sinterklaas. After lecture we left to one of their places where a huge load of
food was already prepared. What a wonderful event have I thought at that
moment. You have to know I love good food



After having eaten the traditional "ceremony" took place. It was time to
show your talents as a poet. Everybody was prepared expect for me who was completely
unprepared

.

The poems are written in the name of Zwarte Piet (I will explain later who that is).
Therefore, you are allowed to freely give some compliments and critics at the
same time. I had the feeling that this is a great tradition because everybody
became creative and since everything was said indirectly we had to laugh a lot
how could the Zwarte Piet know so much about us. Afterwards, little gifts were
exchanged and I got a great impression about this traditional event. Next time
I will know what to expect and be a little creative as well.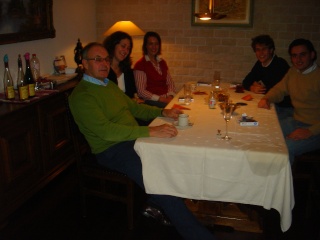 Of course we celebrated an adult version of this traditional event. But
how do the Dutch families celebrate their Sinterklaas?


The month December is a very
special month in the Netherlands.
That's not only because of the Christmas celebration but also, or maybe even
more importantly, because of Sinterklaas. On the evening of the 5th
of December families come together to celebrate Sinterklaas. According to the tradition,
Sinterklaas was a bishop who lived in Turkey during the 4th
century. Since he presumably performed miracles during his live, he became known
as Sint Nicolaas. Throughout the centuries people continued to celebrate his
name day, which slowly turned into a feast especially for children. Nowadays, a
tall old man with a long beard wearing a red tabard and a mitre on his head
arrives each year from Spain
to award the Dutch children who have behaved well and to punish the ones who
have been naughty during the past year.


About two weeks before the fifth of December,
Sinterklaas arrives in Holland
in a steamboat and in company of all his helpers, Zwarte Pieten, who are all dark-skinned,
have black short curly hair and wear colourful outfits with a matching beret. The
Zwarte Pieten usually jump around, do funny things and throw pepernoten (a type
of candy made of flour and a special mix of spices). Until the 5th, children
can put their shoe under the fireplace or near the heating every evening. Just
before they go to bed they put something in their shoe for Sinterklaas himself,
for instance a drawing, and for his trusty grey horse a carrot. Plus, they sing
a Sinterklaas song. The next morning when they wake up, the carrot will have
magically

disappeared and in its place will be a little present, like the
first letter of your name in chocolate. This happened because every night
Sinterklaas rides over the rooftops together with his Zwarte Pieten who go down
chimneys to collect the stuff in the children's shoes and put something back.
In this period children are generally full of
excitement; they live up to the big day wondering if they will receive
everything that they have put on their wish list. On the evening of December
the 5th everyone is waiting with anticipation to the moment that
Sinterklaas rings the doorbell. When you finally hear that penetrating sound, you
rush to open the front door but the only thing you find on your doorstep is a
large sack. You still try to call after him "Sinterklaas" but he has already
left again, up to the next family. So you drag the sack inside and carefully
open it: it's filled with presents for everyone!
Of course there was no real old man with a crosier ringing
at your door but when you are about four years old, you truly believe that
Sinterklaas exists. You fall for the largest charade of the country; every
adult is in on it. And as you get older and find out the, at first devastating,
truth, you also start to play along. Moreover, the adults often have a
different celebration of their own, where they give each other (handmade)
presents accompanied by a poem in which you either mock the person who the gift
is for, or express your gratitude or appreciation to that particular person.
All in all the 5th of December is a quite
memorable event. It's not just another occasion in which you receive presents,
but you get to experience what is meant by the typical Dutch word
'gezelligheid'; finding yourself in good company and sharing food and
drinks.
Student Ambassador




Posts

: 23


Join date

: 2007-11-27


Age

: 33


Location

: Groningen, Netherlands - originally from Germany - North Coast!





Similar topics
---
Permissions in this forum:
You
cannot
reply to topics in this forum